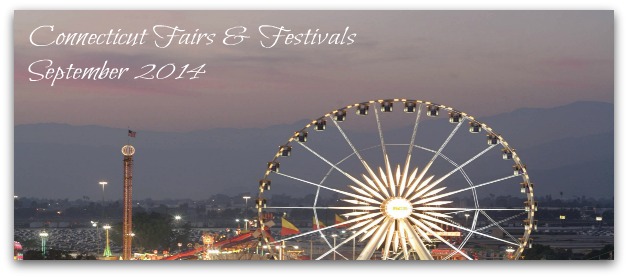 With Summer on the wane, it's time now to shift focus to the many Connecticut fairs and festivals that are coming up this month. Whether you go for the food, the entertainment, the rides, the games, or a combination of everything, Connecticut has something for all of us fair-goers in September!
North Haven Fair – September 4 – 7
Come and see "Rosie's Racing Pigs," and the thrills and stunts of "The Famous Wallendas." Enjoy live musical performances, comedy and magic shows, animal exhibits and great fair food.
Hebron Harvest Fair – September 4 – 7
This major agricultural fair is packed with fun and entertainment including livestock shows, a midway, exhibits, a small-animal barn, arts and crafts, food booths and continuous stage entertainment. Enjoy live country music performances all weekend!
Bethlehem Fair – September 5 – 7
At this country fair you'll see cattle, livestock and animal pulls along with antique tractors, herbs and needlework exhibits, a Farmer's Market, and live music. On Friday night (Sept. 5), see The "Cast" of Beatlemania on the Main Stage.
Four Town Fair – Somers – September 11 – 14
You'll have one-of-a-kind fun at the four-day, Four Town Fair, one of Connecticut's oldest fairs. See the 18th Annual Antique & Classic Car Show, "Beatles Forever" Tribute Band and the Fair Parade. Like contests? There's the Doodlebug Drawing Contest, Largest Frog & Frog Jumping Contest, Heaviest Pumpkin Contest and Corn Eating Contest. And you won't want to miss the Open Swine Show or the Women's Skillet Throw. It's fun for all!
Guilford Agricultural Fair – September 19 – 21
The Guilford Fair is part traditional fair, part circus, part Broadway theater. In addition to the midway rides, games and food, visitors can enjoy performances by the fair's family circus – the live tiger and lion acts will wow spectators of all ages.
Orange Country Fair – September 20 – 21
From the classic car show and tractor pulls to arts and crafts and animal displays, there is truly something for everyone at the Orange Country Fair. Enjoy live entertainment and all types of mouthwatering fair food.
Durham Fair – September 25 – 28
Begun in 1916, the Durham Fair continues its tradition today as Connecticut's largest agricultural fair. With rides and games, tractor pulls, three livestock barns, crafts, exhibits featuring baking, canning, photography and horticulture, and a wide selection of fair food, there's a huge harvest to take in. Live entertainment this year includes Tower of Power, Montgomery Gentry and Jo Dee Messina.
We'll update this post periodically if we find more Connecticut fairs and festivals. Hope to see you at some of these great local celebrations, and stay tuned for our next post detailing more amazing fairs coming up in October!